Parish History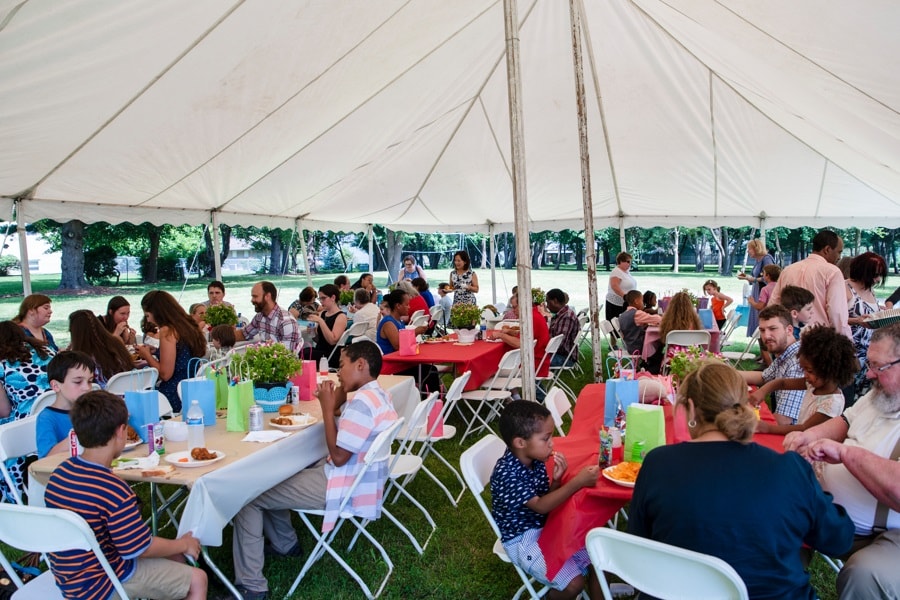 Back in the late 1970s, Nicholas Brill initiated an Orthodox University mission for students at ISU, under His Grace Bishop Boris. Because of the transitory nature of the student population, this effort ended in the early 1980s. In the spring of 1997, after a fairly long series of emails with Fr. John Matusiak of St. Joseph's Orthodox Church in Wheaton, a resident of Bloominton-Normal, John Iliff, converted to Orthodoxy along with his son, Eric. After talking with Fr. John, he agreed to spearhead the formation of a mission station in Bloomington-Normal, Illinois. Contacts were made with other Orthodox Christians in the Bloomington-Normal area. By the fall of 1997, a small group of people had gathered, including Mary Litchfield, Neal and Irene Gamsky, Betty Tomaski, Evica Clingon, Isak Griffiths, and John and Patty Brown. They expressing an interest in Orthodoxy in general and in the formation of a community in particular. Temporary quarters were secured on the campus of Illinois Wesleyan University in Bloomington. On Christmas Eve 1997, Fr. Mark Stevens celebrated the first Divine Liturgy for what became known as the Orthodox Christian Community of Bloomington-Normal.
On January 6, 1998, Bishop Job gave his blessing to organize the mission as a part of St. Joseph's parish in Wheaton, with Fr. Mark Stevens service as priest-in-charge. However, very soon Fr. Mark and Matushak Nancy Stevens transferred to St. Andrew's parish in New Port Richey, Florida. Clergy from St. Joe's began traveling from Wheaton to Bloomington-Normal on a weekly basis to celebrate services and provide organizational guidance. As word spread, more individuals and families began attending services. For several, this was their first ever opportunity to "see" and "feel" Orthodoxy, not just read about it in a textbook. For about six months, the mission community held services in a chapel connected to Holy Trinity Catholic Church in Bloomington.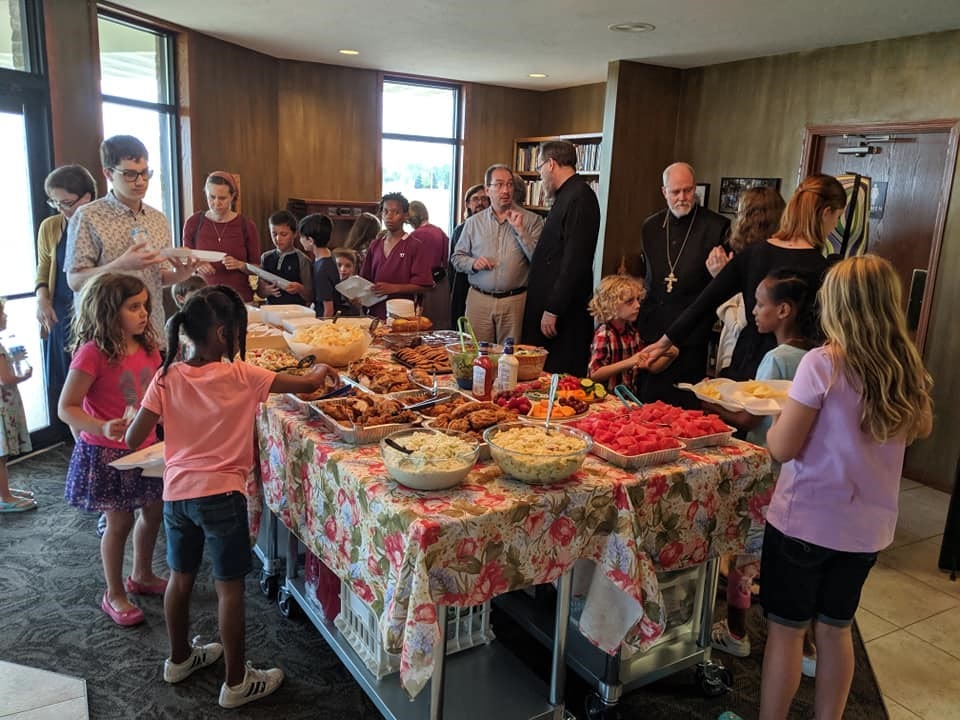 Impressed with the growth of the Bloomington-Normal mission, his Grace Bishop Job made his first arch pastoral visit to the mission in the summer of 1998. With the appointment of Fr. Basil Aden as Midwest Diocesan director, additional guidance was given to Our mission. On January 13, 1999, Fr Basil presided at the mission's first annual meeting. His Grace Bishop Job made his second arch pastoral visit to Bloomington-Normal on October 4, 1999, bestowing upon us our new patronal name, Holy Apostles Orthodox Church, which immediately became part of our emerging identity.
In 2001, His Grace ordained John Dickson Brown to the priesthood and assigned him as priest-in-charge. Also in that year, property was purchased on Hovey Avenue, and extensive renovation work began on two buildings which eventually became the Church and a multi-functional community house. The first Divine Liturgy on the new property was celebrated on the Eve of the Nativity - exactly four years since first gathering for worship. Fr. John faithfully served Holy Apostles until October of 2012, at which time he moved to the state of Georgia.
Shortly thereafter, Fr. Danial Doss, began serving first as a visiting priest, and was then assigned as our priest in March of 2013. By the end of this year, Holy Apostles was elevated to "church status." Fr. Danial continued to serve as priest-in-charge until July 2016.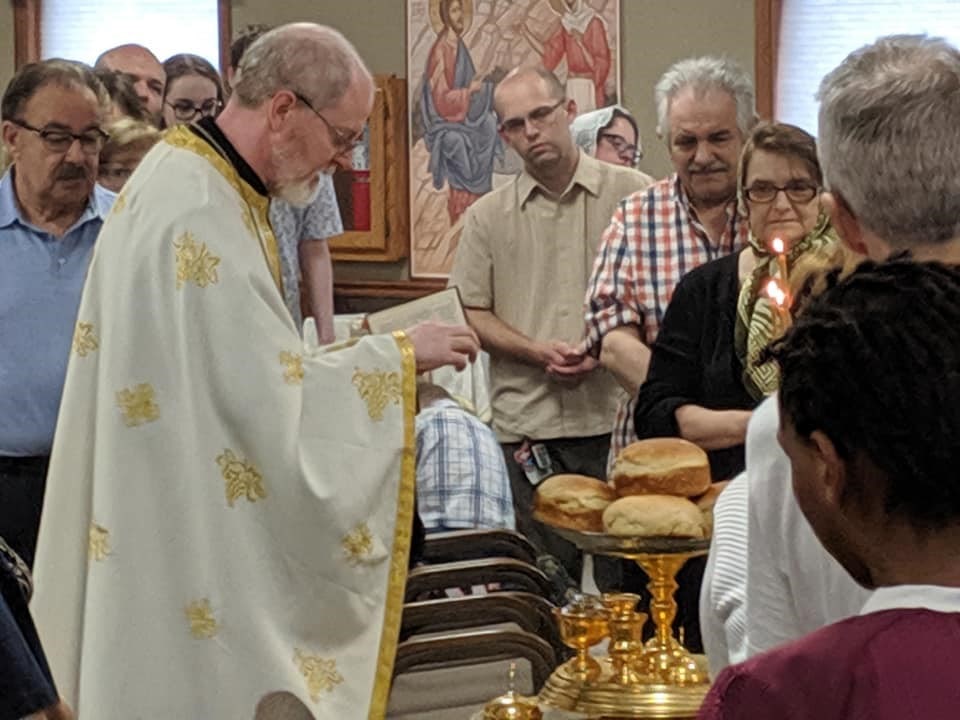 David Gresham moved to Normal in 2003 to teach at Illinois State University and began attending Holy Apostles. Archbishop Job tonsured him to be a Reader in 2006. In March of 2014, Bishop Alexander ordained him to the diaconate. The following year Deacon David attended St. Tikon's Orthodox Seminary in South Canaan, PA and on February 2, 2016, was ordained to the priesthood by his Grace Bishop Paul Gassios. Upon returning to Bloomington-Normal, Father David was appointed priest-in-charge of Holy Apostles parish and in April 2017 Bishop Paul appointed him the official Rector of the parish.

For several years, the Holy Apostles congregation debated whether to build on our current land or find a building that would fit our needs. In 2019, the Lord presented us with a wonderful opportunity to purchase a former church located at 18884 HWY 150 in Bloomington. We relocated in July of 2019. The new church gives our parish everything we currently need and the ability to expand as necessary.
Holy Apostles consists of members who are "cradle" Orthodox and others who are converts to the faith. The focus remains unchanged, and that is to be a witness to the beauty of Orthodoxy to Central Illinois.